China is spending billions on its foreign-language media
Is it worth it?
ON THE 26th floor of an iconic glass skyscraper … nicknamed the "Trousers", in Beijing's main business district, half a dozen casually dressed 20-somethings gather in a rainbow-coloured lounge, chatting away on ergonomic chairs. The office has the vibe of a hip tech startup. In fact, it is the headquarters of the country's foreign-language television service, which rebranded itself in 2016 as China Global Television Network (CGTN). The young staff are Chinese who have studied abroad and are proficient in one of the network's five languages—English, French, Spanish, Arabic and Russian. CGTN is at the forefront of China's increasingly vigorous and lavishly funded efforts to spread its message abroad. Xi Jinping, the president, has told the station to "tell China stories well".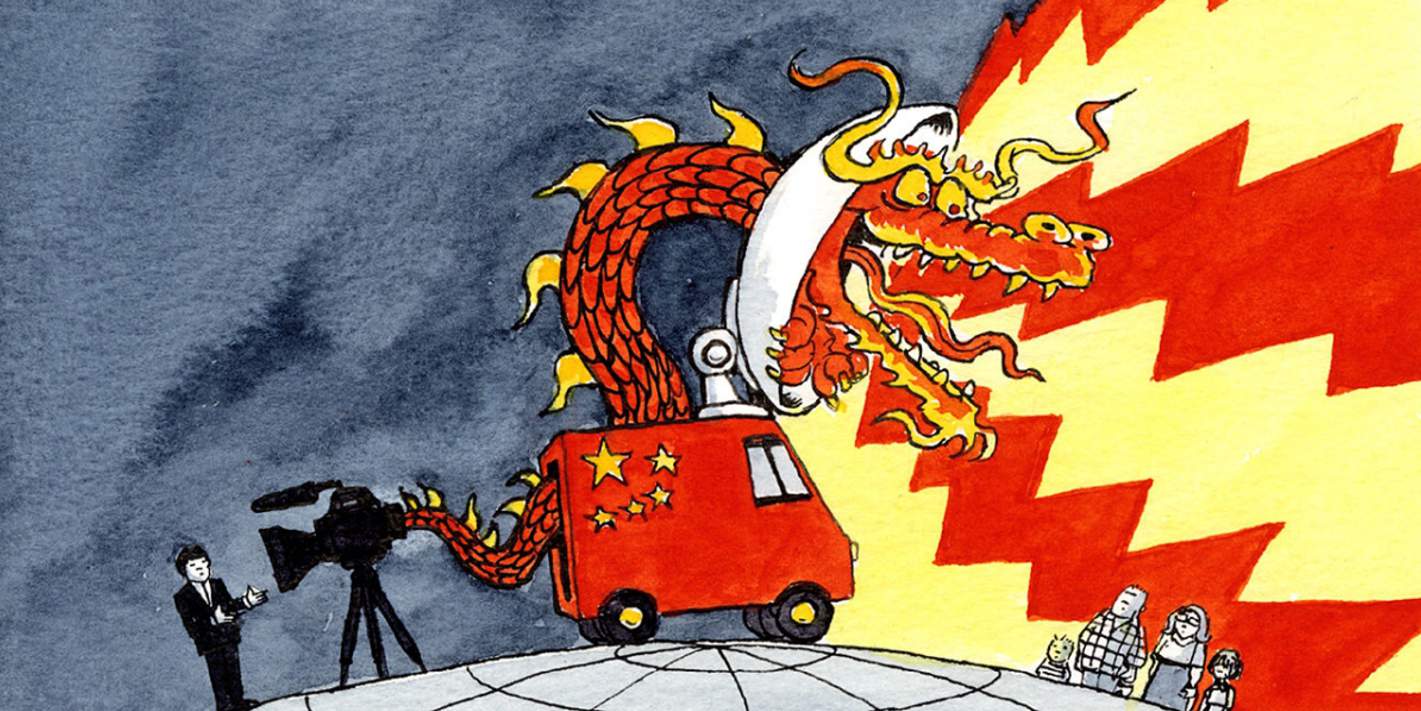 CGTN—a consolidation of the foreign-language operations of CCTV, the state broadcaster—is secretive about its budget but open about its ambitions to compete with global broadcasters such as CNN and the BBC. In November it plans to open a new broadcasting centre in Chiswick, a wealthy suburb of London. It will complement the two others the station inherited from CCTV in Washington and Nairobi, each of which has around 150 reporters. BuzzFeed News, citing an e-mail sent by a local recruiter, reported this week that the new centre is planning to hire more than 350 London-based journalists over the next 18 months. Salaries on offer are "well over" average for journalists in the city, the news site said, quoting someone headhunted for a job. (CGTN's choice of name may help, too: when they were called CCTV, China's overseas television operations suffered from association with surveillance equipment.)
To ensure its grip on the message put out by its domestic and international broadcasting services, including CGTN, the government consolidated them in March into a single media group known as Voice of China (its name in English perhaps consciously echoing that of the American government's broadcasting service, Voice of America). The reorganisation allows CGTN and the other services to retain their separate identities under a combined management controlled by the Communist Party's Publicity Department, a powerful agency in charge of propaganda and media censorship. Voice of China's missions include "overall planning of important propaganda reports". Writing in a state-owned newspaper, Jia Wenshan of Renmin University in Beijing said the group would try to "combat fake news, give the lie to the 'China threat' propaganda meme and fight the Western media's hegemony".
Chinese officials have long complained that Western media dominate global discourse and harbour prejudice against China. A decade ago, hit by a barrage of critical coverage in the wake of anti-Chinese unrest in Tibet, the government decided to step up its efforts to seize "discourse power" from the West. According to the South China Morning Post, a newspaper in Hong Kong, it allocated 45bn yuan ($6.6bn) for the purpose. The money has been poured into expanding "flagship" foreign-language media, in print and online as well as on air. In 2009 China Daily, then the country's only English-language daily, launched an edition tailored for the American market. In the same year Global Times, a tabloid owned by the party's main mouthpiece, People's Daily, began publishing its own English-language daily, offering somewhat racier fare than that of China Daily, while still avoiding criticism of the party. (Global Times has been producing an American edition since 2013, with the help of its own printing-press there.)
All China, all the time
Over the past decade, Xinhua, China's main news agency, which publishes in numerous languages, has set up more foreign bureaus than any rival, boosting its tally to 180 from just over 110. In 2010 it set up a global television channel in English, called CNC World. China Radio International, part of Voice of China, now broadcasts in 65 languages, up from 43 a decade ago. These outfits have also been building up their online presence in English and other languages, making extensive use of social media that are blocked in China such as Facebook, Instagram and Twitter. In 2012 China Tibet Online, an official website, began publishing in French and German.
Results have been mixed. In 2009, when China began beefing up its foreign-language news media, Pew Research Centre asked people in 38 countries about their views of China. The median rating was 50%. By 2017 it had dropped slightly, to 47%. But respondents in developing countries were more positive than those in rich ones. A survey in 2016 of youth from 18 African countries found that, of those who had watched CGTN, 63% had liked the channel and only 13% had a negative view. More than half said they agreed with CGTN's "ideological agenda". In countries where media are already muzzled, people may be less judgmental about state-controlled outlets run by foreigners, says Hugo de Burgh of the University of Westminster.
For CGTN, the headline numbers look good. It has 62m followers on Facebook, as many as the BBC and Al Jazeera combined. Two-thirds of CGTN's online traffic, however, comes from China itself—mainly from people who want to learn English. CGTN does not release audience numbers, but analysts believe that few people outside China have heard of, let alone watch, the channel. In America's biggest cities, more people watch the online videos of NTDTV, a channel founded by Falun Gong, a spiritual movement that is outlawed in China, than those of CGTN, reckons Sarah Cook of Freedom House, a think-tank. Videos posted on CGTN's YouTube page rarely attract more than a few hundred views. Those on the BBC's often exceed 50,000.
Circulation figures for China's foreign-language print media are similarly dodgy. An audit in 2014 found that 94% of copies of China Daily's weekly European edition, which is priced at £2 ($2.65), were being given away. If the newspaper has made inroads in the West it is largely by paying Western newspapers to distribute its content as free inserts. In 2016 People's Dailyreached a deal whereby Britain's Daily Mail would run up to 40 of its stories every week online. (People's Daily, in turn, would run a similar number of stories from the Mail Online). Beijing Review, a weekly magazine in English, publishes articles in the advertising pages of foreign publications, including The Economist. The tactic is used in broadcasting, too. In 2015 Reuters, a news agency, found that China-friendly news and other programmes made by CRI were airing on at least 33 radio stations in 14 countries, including America, with no acknowledgment of CRI's involvement.
It is not for want of trying that China's foreign-language media find it hard to compete. Every now and then CGTN tries to make itself appear less of a mouthpiece by covering sensitive social and political topics that are off-limits to its domestic-facing counterparts. In a recent episode of "Dialogue", a talk show on CGTN, the host prodded his guests into talking about an online essay written by a disgruntled Beijinger lamenting the "emptiness" of life in the city—even though the once-viral piece had been scrubbed from the internet in China by censors. Officials call their common practice of giving foreign-language media such leeway "neijin waisong": strict domestically, relaxed externally. They point to Russia Today as a role model.
Despite his calls for innovation, however, …