An unconstitutional vote on independence turns nasty
The Spanish government's handling of the Catalans damages Spain's image
THEY were scenes the Spanish government did not want to see. Across Catalonia … in north-eastern Spain, tens of thousands of people turned out to cast votes in an unconstitutional referendum on secession organised by the regional government. Spain's conservative prime minister, Mariano Rajoy, had vowed that the referendum would not take place. Spanish riot police shut down over 300 polling stations, causing many injuries, though most of them minor. But several thousand others were functioning, albeit slowly, as a cyberwar unfolded in the background over internet access to the voter roll.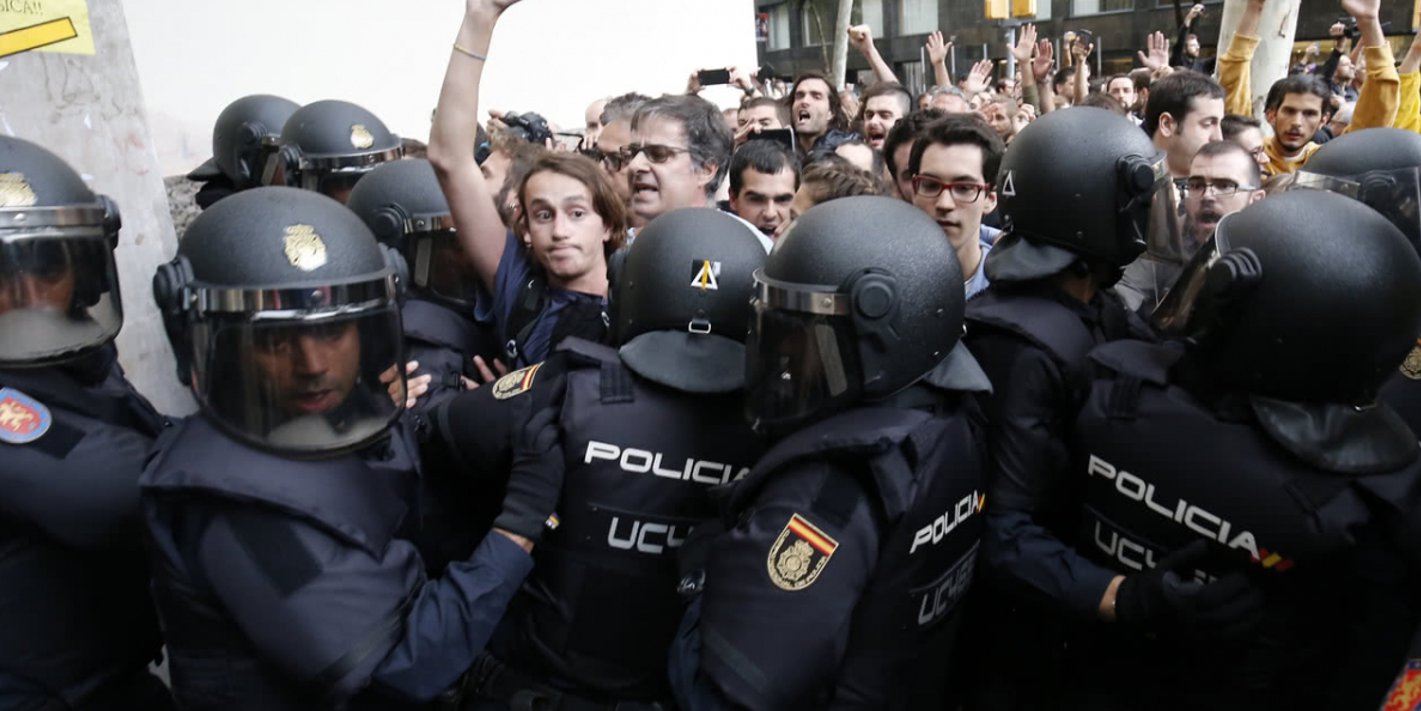 That was a victory for Carles Puigdemont, the Catalan president, and his pro-independence government. And so, in propaganda terms, was the video footage of riot police beating protesters who were blockading schools where voting was to take place. In one case, an elderly woman was left bloodstained. "Today the Spanish state has lost a lot more than it had already lost, and Catalan citizens have won a lot more than they had won until now," said Mr Puigdemont, speaking after he had voted, near Girona. The Catalan government said 844 people were injured across the region; 12 police were also hurt.
The violence was fairly isolated. In Barcelona and elsewhere, voters queued for hours in a peaceful, celebratory atmosphere. The local police looked on, disregarding an order from a judge to prevent the referendum from taking place. In Vic, a town 70km (40 miles) north of Barcelona that is a hotbed of secessionist sentiment, all eight polling stations were open. Nuns, blind people and others in wheelchairs, and mothers with babes in arms turned out. Ana Erra, the mayoress, who favours independence, said she expected 90% of the 20,000 registered voters to cast ballots.
Nevertheless, the government succeeded in disrupting what Mr Puigdemont's administration had originally hoped would be a "legally binding" referendum. Catalan officials said that almost 2.3m people voted, 2m of them Yes. Those are similar numbers to an informal consultation in 2014. Most of those opposed to independence stayed away. The numbers are not independently verifiable. Pressure from the courts forced the dissolution of an ad hoc electoral authority. The police removed some ballot boxes.
Ms Erra was one of many nationalists to cast doubt on whether a unilateral declaration of independence (UDI) will follow this week, in accordance with a law approved by the Catalan parliament last month. "With my heart I say yes, but with my head I say we have to do things step by step," she said. Polls show that only about 40%-45% of Catalans want independence, though many more would like a referendum to express their discontent with the status quo. Nevertheless, on Sunday night Mr Puigdemont seemed to flirt with UDI, saying that the Catalan parliament "has a duty to implement what the citizens have decided".
Dealing with Mr Puigdemont's provocative challenge would have tested any Spanish government. But Mr Rajoy has been widely criticised for his refusal, dating back several years, to negotiate on the Catalans' complaints over financing or over the referendum. Spain is a vibrant democracy, not the authoritarian state that some Catalans claim. But Mr Rajoy's handling of the referendum has exposed his political limitations. He insisted on the evening of the vote that, "Today there hasn't been a referendum" but rather "a mere staging". He thanked the security forces and said, "We did what we had to do" to uphold the law, adding that the Catalan government was solely responsible for what happened. However, he also said he would invite all parties for talks.
In the rest of Spain, Catalan complaints get short shrift. In the past few days Spaniards in several cities have staged demonstrations against the referendum. They were fairly small, but …